Law Firm Marketing on LinkedIn: You Must be Present to Win
LinkedIn is a powerful social network tool that can accelerate any law firm marketing plan. Yet why is it that there are still many attorneys and law firms that fail to take advantage of this free business development opportunity?
You must be present to win on the internet! If you are not active on this leading social media platform in the legal market, chances are good that your competition is. Why let another law firm go after your accounts?
This article is one of a new series we will be publishing on how a law firm can maximize their LinkedIn presence for client retention, new client acquisition, lead generation, and thought leadership. Below are five reasons why LinkedIn should play an important role in any law firm marketing plan.
Expand your network: LinkedIn reports record engagement across its more than 850 million members. This is a testament to how mission critical the platform is to connect proactive industry professionals, job seekers with jobs, learners with skills, and marketers with buyers. Serious LinkedIn users join relevant industry groups, follow influencers, monitor client activity, offer endorsements, and get referrals.
Enhance your reputation. LinkedIn allows you to showcase your expertise, achievements, and credentials. You can create a detailed profile, publish articles, share insights, and participate in discussions. You can also use LinkedIn to monitor your online reputation and respond to feedback.
Engage with clients. In this era of remote work, it can be hard (if not impossible) to conduct in-person client visits. Yet connecting with a client online is as simple as a few clicks. If you are not already linked to a client online, simply find their LinkedIn profile and send a personalized message to establish a connection. Once you have a relationship in place, you'll both be able to see each other's shares and updates on your LinkedIn feed. You can also send messages to your connections on LinkedIn.
Follow professionals of interest. Following someone on LinkedIn allows you to see the person's posts and articles on your homepage without being connected to them. However, the person you're following won't see your posts. By default, you will follow your 1st degree connections, and you can always unfollow them. You can reach a larger audience by encouraging others to follow your activity and read what you're sharing on LinkedIn, without adding 1st degree connections to your network.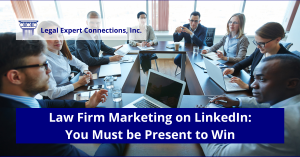 Stay connected despite job changes. It's easy to lose track of people over time. LinkedIn solves this problem by keeping your connection alive, even when a person makes a job change. First, you will get a notification about a job change when your connection makes an announcement on LinkedIn. This will enable you to offer your congratulations and keep the conversation going. Second, if the person is leaving a position with a client company and going to a non-client, you may be able to generate new business by staying in touch.
In summary, LinkedIn is a valuable law firm marketing resource. Lawyers who aren't maximizing their online presence are missing out on career growth and business development opportunities. Today is a good time to start by creating or updating your LinkedIn profile.
Read our e-book, "Courting Your Clients," for more detailed guidance on law firm marketing.
Margaret Grisdela
561-266-1030
https://legalexpertconnections.com/
The "Courting Your Clients" Legal Marketing Agency
We want to serve as your outsourced law firm marketing department! Courting Your Clients is offered exclusively by Legal Expert Connections, Inc., a national law firm marketing agency. We have helped more than 250 law firms in 40+ states pursue new client opportunities as of June 2023. Our focus is on the business-to-business market, including but not limited to business law, insurance defense, employment defense, commercial litigation, and immigration law.
We are experienced in many lines of legal liability, including auto, construction, cybersecurity, employment law, ERISA, homeowners, immigration, insurance, intellectual property, premises, products, professional liability, tax, transportation and trucking, whistleblower, and workers' compensation.
Our industry knowledge includes education, environmental, forensic accounting, healthcare, hospitality, manufacturing, municipal, professional services, real estate, restaurants, and retail.
Legal Expert Connections, Inc. offers three key benefits to law firms nationwide:
We serve as your outsourced legal marketing department. You get the equivalent of a "Chief Marketing Officer" level professional team for an affordable monthly investment. Our ideal client is a small law firm—from a solo practitioner to a 25-attorney firm—that needs marketing assistance but does not want to incur the cost and management time needed to maintain in-house staffing.
You get a structured business development process. We accelerate your growth with a 12-step legal marketing campaign that brings discipline, focus, and productivity to your marketing efforts.
Increase revenue with Bar-compliant legal marketing campaigns. We understand attorney advertising campaigns and can provide guidance in this regard. Ultimate compliance responsibility rests with the law firm.
Contact Margaret Grisdela, a legal marketing consultant, at 1-561-266-1030 or via email. Connect with Margaret Grisdela on LinkedIn.

Margaret Grisdela
We've helped more than 250 law firms in 40+ states with marketing and business development campaigns across all practice areas. Contact us for a free consultation. You will be able to spend more time on the law when we take the lead on your personalized "Courting Your Clients" marketing campaign.