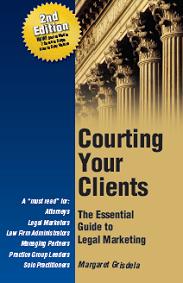 The Essential Guide to Legal Marketing
Courting Your Clients (2nd Edition)
By Margaret Grisdela, Author
Courting Your Clients is a rainmaking roadmap that tells you what works and what to avoid in building your law firm practice. Here are 3 of the many powerful business development techniques attorneys can implement after reading this book:
Market to current clients for new revenue fast
Syndicate your blog through social media sites
Set a schedule for maximum business development
Use speeches and articles to attract prospects
Click on the link to download a free copy of Courting Your Clients.
Read More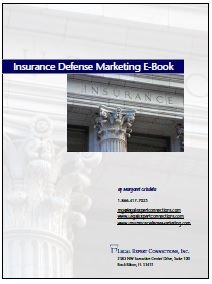 Insurance Defense Marketing E-Book (Free)
A new "Insurance Defense Marketing E-book," published by the legal marketing agency of Legal Expert Connections, Inc., provides insurance defense lawyers with guidance on how to get named as panel counsel on additional insurance company panels.
The informative E-book, available in PDF format, helps managing partners and practice group leaders plan for the 2022 legal marketing cycle. While getting a personal introduction to a panel manager is the ideal point of entry to a panel, the E-book explains that personal relationships are increasingly being replaced or supplemented with a panel counsel application process.
Click on the link to download a copy of the
Insurance Defense Marketing E-Book
(A new window will open.)
Read More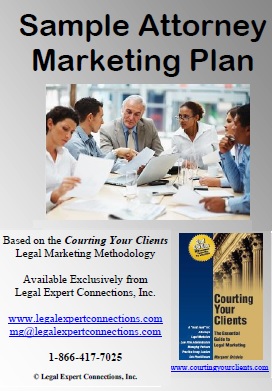 Attorney Marketing Plan
A thoughtful, carefully written attorney marketing plan offers three important benefits:
Save time by narrowing your focus,
Save money by concentrating your marketing budget on a smaller but better qualified prospect list, and
Get more clients through higher response and conversion rates.
This "how to" guide to writing your own marketing plan includes a sample legal marketing calendar, as well as a sample law firm marketing budget. Gain the guidance you need to prepare your own business development campaign in just a few days. It is ideal for associates, solo practitioners, or more experienced attorneys who are focused on expanding their client base.
Click on the link to download a free, sample attorney marketing plan.