Law firms in need of business law marketing need an integrated campaign to attract and retain new corporate clients. Legal Expert Connections can help you develop a customized business-to-business (B2B) law firm marketing campaign to help  your law firm and attorneys increase lead generation. Contact Margaret Grisdela by phone at 561-266-1030 or via email to talk about a business development campaign for your law firm.
We focus on digital campaigns for your business law marketing program because they are quick to launch, affordable, measurable, and generate qualified leads that you can convert into clients.
Using the combination of digital and traditional marketing strategies, we can help you allocate your marketing budget in a way that maximizes your chance to you generate more clients and profitability.
Business Law Marketing Elements
We will create and manage a business law campaign focused on lead generation and client retention. Your business development campaign can include but is not limited to:
Social media marketing on LinkedIn and Facebook
Newsletters (we are a Constant Contact partner)
Content marketing using blog articles, news releases, and more
Search engine optimization (SEO) for business law marketing terms
Legal directories like Super Lawyers and Martindale-Hubbell
Video marketing on YouTube
Pay Per Click (PPC) advertising campaigns on Google Ads and Bing
All marketing campaigns are designed to be Bar-compliant with attorney advertising guidelines.
Lead Generation for Your Business Law Marketing Plan
You will get enhanced visibility in your local business community when we target your audience.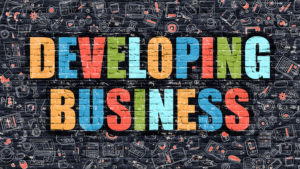 Business owners. We help you target business owners, entrepreneurs, and C-level executives who need legal advice on the negotiation, drafting, and filing of critical business agreements. You can also target existing partnerships that are seeking representation in partnership disputes and litigation including the enforcement of non-compete and non-disclosure agreements or a breach of the partnership agreement.
Start-up companies. Your marketing campaign can target prospects who are developing business plans and beginning new business ventures. Identifying key issues that will help clients determine which business entity to pursue can be a part of your marketing plan.
If your law firm works with corporations, your marketing campaign can identify issues that arise in employment agreements, mergers and acquisitions, and commercial litigation. Your marketing campaign should also highlight the benefits of hiring outside counsel.
Business Law Content Marketing Strategies
Writing and publishing blog posts, FAQs, and long form articles about business law can be a very effective way to draw qualified prospects to your website. Some of the business law topics we can help you promote might include:
Agreements: for shareholders, employment, operations
Business dispute litigation
Business formation and dissolution
Commercial real estate issues including leasing and insurance agreements
Formation of various business entities
Investor relations
Mergers and acquisitions
Purchase or sale of business assets
Regulatory compliance
By offering your website visitors important information about business law, you can encourage potential clients to contact your law firm via phone or email for a free consultation.
Business Law Marketing Agency
If your law firm is asking how to get more business, give us a call. We have helped more than 220 law firms in 40 states pursue new business opportunities. We take the lead on creating and managing effective marketing campaigns so that you can focus on the practice of law.
Legal Expert Connections, Inc. offers three key benefits to law firms nationwide:
We are a leading U.S. legal marketing agency specializing in new business development. We serve as your outsourced marketing director and can address all your marketing needs.
You get a structured business development process. We guide your law firm through a proven three-step campaign that brings discipline, focus, and productivity to your marketing efforts.
Increase revenue with professional, Bar-compliant legal marketing campaigns. We do the research to identify prospects, so you can focus your time on the business development process. We have in-depth knowledge of attorney advertising guidelines and strive to prepare bar-compliant marketing materials.
Contact business law marketing consultant Margaret Grisdela by email or call 561-266-1030 to schedule a free marketing consultation.