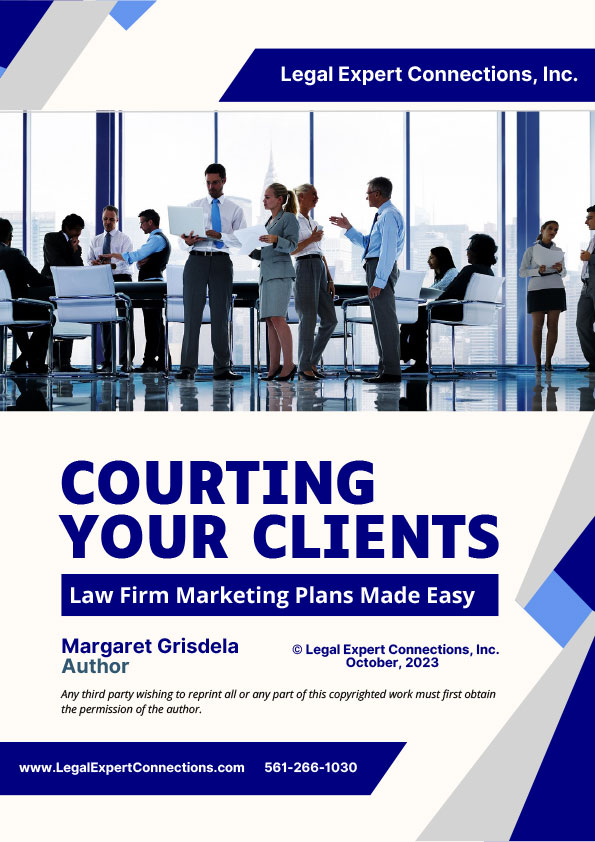 Courting Your Clients
Business development in the legal market carries an aura of mystery when described as "rainmaking." In this e-book you will learn how to simplify the process of growing your law firm by focusing on five key steps: client retention, client acquisition, digital leadership, educational leadership, and performance management. You also get access to the "Courting Your Clients" recommended marketing schedule to help your law firm plan and implement an effective law firm marketing program. Sign up below to get a FREE E-book about how to make the most of your law firm marketing plan.
E-Book readers will discover the secrets a structured law firm marketing program, including how to:
Design an integrated marketing plan
Strengthen client relationships
Build brand awareness
Increase competitive positioning
Gain visibility with social media marketing
Speak at legal and industry events
Publish articles on timely topics
Offer client webinars
Create a law firm value equation
Achieve attainable law firm growth
Sign up here to get your FREE E-book
Courting Your Clients is a legal marketing plan that can be used by lawyers and law firms to generate revenue through client retention and new business development. It can be applied to all areas of law, from Admiralty to Zoning, including legal practices that serve consumers or businesses.
This system was first outlined in the 2007 book by Margaret Grisdela titled, "Courting Your Clients: The Essential Guide to Legal Marketing." Since then, the COVID epidemic and the emergence of artificial intelligence ("AI") are two epic changes that are redefining how we work, where we work, and the use of technology in the practice of law. Despite the changing environment, the imperative to attract and retain clients remains paramount.
Your law firm can develop the resilience you need to retain current clients and attract qualified new prospects by applying the legal marketing approach outlined in the Courting Your Clients 12-step legal marketing plan. You will learn how to:
Uncover hidden revenue fast by marketing to current and past clients.
Drive traffic to your website with search engine marketing and social media.
Generate more leads with a prioritized contact schedule for your referral sources.
Be viewed as an expert by speaking at local, regional, or national events.
Get published in an industry periodical, legal journal, or newsletter.
Make the most of memberships by turning networking events into new business.
See your name in the news with PR campaigns promoting legal accomplishments.
Present a professional appearance with the right set of marketing materials.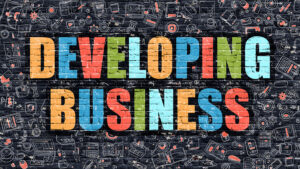 If you are an attorney, managing partner, legal marketer, or law firm administrator who is serious about building a business development platform that will take your law firm to the "next level," Courting Your Clients is for you.
Our commitment is to help you create the opportunities that will put you in front of quality prospects. Many clients say to us, "I just need to get in front of the prospect; then I can get the business." Consequently, this legal marketing plan does not dwell on "closing the sale," or the final steps involved (pitch books, proposals, presentations, etc.) in getting the client to sign your engagement letter. Your legal expertise, coupled with strong personal interaction skills and perseverance, will enable you to sign the account.
Most importantly, you will learn why marketing and business development is a process, not an event. Attorneys who skillfully adopt these techniques will gain a competitive advantage when they implement a disciplined, on-going approach to lead generation and client relations.
Let's get started!
Note: There is one comment that applies to every aspect of the Courting Your Clients legal marketing plan. Check with your state bar association before you start marketing to ensure compliance with relevant attorney advertising guidelines. If you market your legal practice in more than one state, review the regulations in every relevant jurisdiction.
The "Courting Your Clients" Legal Marketing Agency
Courting Your Clients is offered exclusively by Legal Expert Connections, Inc., a national legal marketing agency. We have helped more than 250 law firms in 43 states pursue new client opportunities as of June 2023. Our primary focus is on the business-to-business market, including but not limited to business law, insurance defense, employment defense, commercial litigation, and immigration law.
Legal Expert Connections, Inc. offers three key benefits to law firms nationwide:
We serve as your outsourced legal marketing department. You get the equivalent of a "Chief Marketing Officer" level professional team for an affordable monthly investment. Our ideal client is a small law firm—from a solo practitioner to a 25-attorney firm—that needs marketing assistance but does not want to incur the cost and management time needed to maintain in-house staffing.
You get a structured business development process. We accelerate your growth with a 12-step legal marketing campaign that brings discipline, focus, and productivity to your marketing efforts. Identifying prospective new clients for you to approach is one of our core capabilities.
Increase revenue with Bar-compliant legal marketing campaigns.
Contact Margaret Grisdela, a legal marketing consultant, at 1-561-266-1030 or via email. Connect with Margaret Grisdela on LinkedIn.