In today's competitive legal environment, a professionally designed and executed social media marketing campaign focused on your law firm practice areas can enhance your position as a thought leader, retain current clients, attract new prospects, and generate leads.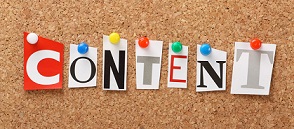 Legal Expert Connections, Inc. is available to create and maintain a law firm social media marketing campaign customized to your law firm. We are experienced with article marketing, blog management, LinkedIn social media marketing, Facebook, Twitter (now X), client alerts, and newsletters. Margaret Grisdela, a social media marketing consultant for attorneys and law firms, is available by phone at 561-266-1030 or via email to discuss a law firm social media marketing strategy for your firm.
Many attorneys and lawyers ask, what is social media marketing (also known as content marketing) for law firms and how will it benefit my practice?
According to the Content Marketing Institute, a useful definition is:
Content marketing is the marketing and business process for creating and distributing relevant and valuable content to attract, acquire, and engage a clearly defined and understood target audience – with the objective of driving profitable customer action.
Listed below are the steps that we follow and recommend for every campaign focused on content marketing for law firms.
1. Create a Law Firm Social Media Marketing Strategy
Setting goals and a framework for a law firm's content marketing strategy is an essential way to get started. Identify who you want to reach, how often you want to publish, who will do the writing (in-house attorneys or outsourced blog copywriters), and the style of writing.
2. Select Topics for Your Law Firm Social Media Marketing Campaign
Identify in advance the subject matter that you plan to cover as part of your law firm content marketing strategy.
An employment law firm, for example, might focus on topics including discrimination, hiring, firing, whistleblower claims, retaliation, and EEOC rulings.
An insurance defense law firm might concentrate on news involving professional malpractice, product liability, director and officer (D&O) disputes, commercial auto, trucking, or the business side of claims management.
Topics that promise coverage opportunities as part of longer-term trends are ideal, like the status of workers in app-based companies or the emerging use of drone technology. These topics provide a continuous stream of source material, and allow the publisher the opportunity to link between stories.
You might also borrow the practice of creating an "editorial calendar" used within the magazine publishing industry. Evaluate your news content from the perspective of national holidays, seasons, or industry compliance requirements, and then create a calendar that identifies in advance topics that you plan to cover within a particular month.
3. Monitor the News for Breaking Stories
Finding a news story to write about can be a challenge, particularly if your topic is narrowly focused. Google alerts are a fast and easy way to find breaking stories on topics of interest. It is also helpful to create a "source list" as part of your initial strategy. Look for sources like news portals and online magazines that provide daily coverage on news items targeted to your blog.
4. Draft an Article for Your Law Firm Social Media Marketing
Now comes the time to actually write your article. Target a minimum word count range of 300 to 500 words per post in consideration of search engine optimization (SEO) guidelines. The longer the post, the better your long-term visibility will be. Posts of 1,000 to 2,000 words work well, but it might be better to have these longer articles published by an independent legal publisher, like a law journal or state bar association.
Every blog post benefits from a quality control review process that includes a second pair of eyes. We always conduct a QC check that includes a review of grammar, punctuation, spelling, and the accuracy of key concepts. If unusual names, cities or technical terms are used, make extra sure everything is spelled accurately. The Associated Press Stylebook (AP style) is an ideal reference for common writing questions.
Note: If writing a long article is a challenge due to time constraints, it is also easy to create one or a series of posts using attractive graphics. Give us a call to discuss some ideas for your campaign!
5. Make Your Law Firm Social Media Marketing SEO-Friendly
A catchy headline that contains high value keywords works best to capture the attention of busy readers. It is worth spending a few minutes to craft a finely tuned headline.
The next step is to add critical "meta tags" that appear behind the scenes in the HTML code embedded in the header of your article. The title tag, which is technically not a meta tag, summarizes the content on the page in a maximum of 50 to 60 characters. Try to keep the title tag to 55 characters, including spaces, for best performance. Use high value keywords, and try to avoid common low value terms like adverbs, adjectives or prepositions. The title tag is frequently different from the headline for your article, although it could be the same if you wish.
The "description" meta tag is a short description of 150 to 160 characters, including spaces and punctuation. It should contain the primary keywords in your article. The description is frequently used by Google as the descriptive "snippet" that appears on the natural search engine results page when your web page is displayed as a choice for web searchers to select.
Keyword tags have lost their importance over the years, and Google generally does not show them. Many SEO plug-ins for WordPress, like Yoast, do allow space for one "focus keyword" that defines the primarily concept being communicated on the web page.
Photos are eye-candy that helps to increase readership. A blog post with a photo helps to gain visibility for your work on Google, LinkedIn, and other publishing outlets.
The tags on every web page should be unique.
6. Publish and Promote Your Law Firm Social Media Marketing Articles
A blog is an ideal platform for your law firm content marketing campaign, particularly if it is built on a WordPress or equivalent content management system. LinkedIn also offers an ideal publishing outlet if you don't have a blog. Depending on the flexibility of your law firm's website, it is great if your posts can appear within the website.
Once your article is published on your blog, LinkedIn and/or website, you can further leverage your writing by promoting it on other social media platforms that are relevant to your law firm. Twitter is one example, and Facebook can also be useful for law firms with a consumer-oriented client base.
7. Summary: Social Media Marketing for Law Firms
Almost all marketing-related content published by a lawyer or law firm is subject to attorney advertising guidelines established by the governing state bar association. Generally these rules forbid the use of content that is qualitative, comparative, misleading, or promissory. Check with your state bar for compliance requirements. If you use an outsourced law firm blog copywriter, make sure they are familiar with attorney advertising guidelines.
Be sure to include a "call to action," like an invitation to contact the author, download a white paper, or learn more via a link to your website. Also include an "About the Author" boilerplate section, with a photo, at the bottom of each blog post.
Content marketing for law firms is a long term strategy that can be instrumental in supporting a law firm's business development campaign. There is no time like the present to either start a new content marketing campaign, or refresh an existing program.
RELATED ARTICLES
Law Firm Marketing on LinkedIn: You Must be Present to Win
Law Firm Marekting on LinkedIn: How to Engage with Clients
Law Firm Marketing on LinkedIn: Common Mistakes to Avoid
The "Courting Your Clients" Legal Marketing Agency
We want to serve as your outsourced law firm marketing department! Courting Your Clients is offered exclusively by Legal Expert Connections, Inc., a national law firm marketing agency. We have helped more than 250 law firms in 40+ states pursue new client opportunities as of June 2023. Our focus is on the business-to-business market, including but not limited to business law, insurance defense, employment defense, commercial litigation, and immigration law.
We are experienced in many lines of legal liability and regulatory requirements, including auto, business, construction, cybersecurity, elder law, employment law, ERISA, homeowners, immigration, insurance, intellectual property, premises, products, professional liability, tax, transportation and trucking, trusts and estates, whistleblower, and workers' compensation.
Our industry knowledge includes education, environmental, forensic accounting, healthcare, hospitality, manufacturing, municipal, professional services, real estate, restaurants, and retail.
Legal Expert Connections, Inc. offers three key benefits to law firms nationwide:
We serve as your outsourced legal marketing department. You get the equivalent of a "Chief Marketing Officer" level professional team for an affordable monthly investment. Our ideal client is a small law firm—from a solo practitioner to a 25-attorney firm—that needs marketing assistance but does not want to incur the cost and management time needed to maintain in-house staffing.
You get a structured business development process. We accelerate your growth with a 12-step legal marketing campaign that brings discipline, focus, and productivity to your marketing efforts.
Increase revenue with Bar-compliant legal marketing campaigns. We understand attorney advertising campaigns and can provide guidance in this regard. Ultimate compliance responsibility rests with the law firm.
Contact Margaret Grisdela, a legal marketing consultant, at 1-561-266-1030 or via email. Connect with Margaret Grisdela on LinkedIn.