Legal Marketing Consultant
Law Firm Business Development
Marketing Director. Law Firm Marketing Plans. Social Media Marketing.
We are a national legal marketing agency founded in 2003 and available to serve as your outsourced law firm marketing department. We hit the ground running with the "Courting Your Clients" system for lead generation, client acquisition, and client retention campaigns that bring discipline, focus, and productivity to your law firm marketing efforts.
Most importantly, you will be able to devote your time to your law practice while we take the lead on create and implement your personalized marketing system. We will save you money by providing AmLaw 100-equivalent marketing experience for a predictable monthly retainer.
Contact us to talk about your legal marketing goals!
Legal Expert Connections, Inc. offers THREE key benefits for law firm marketing nationwide:
1. We are a leading legal marketing agency specializing in new business development.
You get the equivalent of a "Chief Marketing Officer" level professional team.
2. You get a structured business development process.
We guide your firm through a proven three-step legal marketing campaign that brings discipline, focus, and productivity to your marketing efforts.
3. Increase revenue with Bar-compliant legal marketing campaigns.
Our integrated marketing campaigns emphasize lead generation and client retention for enhanced profitability.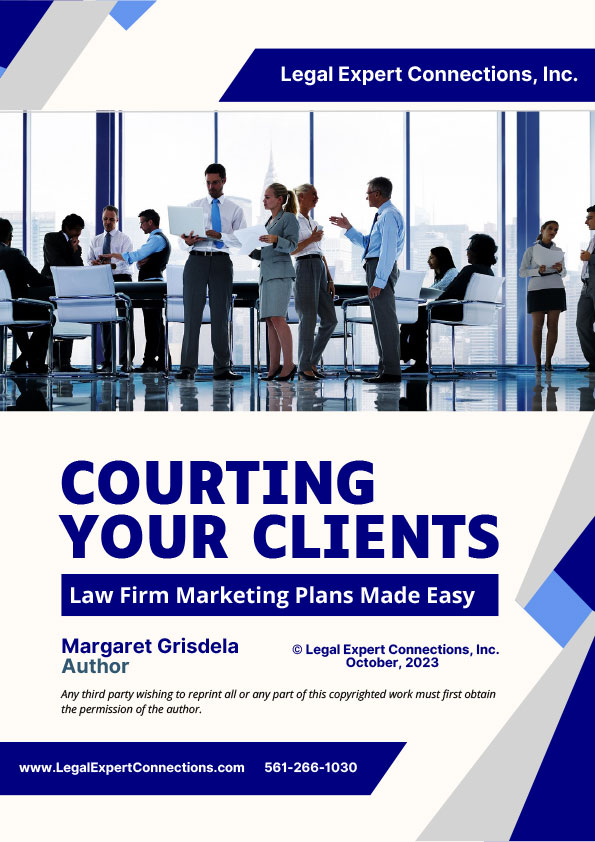 Download our FREE E-book!
The Courting Your Clients Approach to Law Firm Marketing
Discover the essential steps to acquiring and retaining law firm clients.