Law Firm Marketing with LinkedIn: How to Engage with Clients
Connecting with current and potential clients on LinkedIn requires some strategy and etiquette. Here are five tips for law firm marketing on LinkedIn, with a focus on how to engage with clients effectively.
Create and share valuable content. One of the best ways to attract and engage clients is to provide them with useful information that showcases your expertise and helps them solve their problems. You can write original articles, post videos, share infographics, or repost relevant content from other sources. Overall, make sure your content is relevant, engaging, and professional.
Elevate others in your LinkedIn conversations. Your post will get more impressions when you identify people and companies. Simply include the "@" sign immediately before the name of the person or company as it appears on their LinkedIn profile. Then click at the end of the name and you will be automatically prompted to activate the link. This works best with 1st degree connections.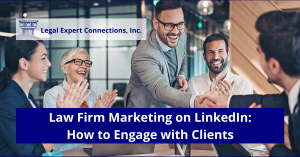 Join and participate in LinkedIn groups. LinkedIn groups are communities of professionals who share common interests, goals, or challenges. You can join groups related to your industry, niche, or target market, and contribute to the discussions by offering insights, asking questions, or providing feedback. This can help you establish your authority, build relationships, and generate leads. Note that group managers may review your request to join or ask for additional information to make sure you meet their membership criteria.
Send personalized messages. When you want to reach out to a client or prospect, avoid the tendency to send a generic or automated message. Instead, craft a personalized message that shows you've done your research, expresses your interest, and offers value. For example, you can mention something you learned from their profile, congratulate them on a recent achievement, or share a relevant resource.
Respond and follow up. Engagement is a two-way street, so don't ignore or delay your responses to clients or prospects who contact you. Be prompt, courteous, and professional in your replies, and try to keep the conversation going. If you don't hear back from them, follow up with a gentle reminder or a new piece of information. Show that you care and are interested in helping them.
Your law firm marketing success on LinkedIn works best when you connect to others who you trust, since they will have access to your personal contact information. In addition to your email address, your connections can view your employment history, your recommendations and endorsements, and see your network updates that include Top Voices and Groups you're following. By limiting your connections to people and organizations that you know and trust, you will be able to protect your employment information and share it only with people who will find it relevant.
This article is one in a series we are publishing on law firm marketing on LinkedIn. Readers will learn how to maximize their LinkedIn presence for client retention, new client acquisition, lead generation, and thought leadership.
Margaret Grisdela
561-266-1030
Related Articles
The "Courting Your Clients" Legal Marketing Agency
We want to serve as your outsourced law firm marketing department! Courting Your Clients is offered exclusively by Legal Expert Connections, Inc., a national legal marketing agency. We have helped more than 250 law firms in 40+ states pursue new client opportunities as of June 2023. Our focus is on the business-to-business market, including but not limited to business law, insurance defense, employment defense, commercial litigation, and immigration law.
We are experienced in many lines of legal liability, including auto, construction, cybersecurity, employment law, ERISA, homeowners, immigration, insurance, intellectual property, premises, products, professional liability, tax, transportation and trucking, whistleblower, and workers' compensation.
Our industry knowledge includes education, environmental, forensic accounting, healthcare, hospitality, manufacturing, municipal, professional services, real estate, restaurants, and retail.
Legal Expert Connections, Inc. offers three key benefits to law firms nationwide:
We serve as your outsourced legal marketing department. You get the equivalent of a "Chief Marketing Officer" level professional team for an affordable monthly investment. Our ideal client is a small law firm—from a solo practitioner to a 25-attorney firm—that needs marketing assistance but does not want to incur the cost and management time needed to maintain in-house staffing.
You get a structured business development process. We accelerate your growth with a 12-step legal marketing campaign that brings discipline, focus, and productivity to your marketing efforts.
Increase revenue with Bar-compliant legal marketing campaigns. We understand attorney advertising campaigns and can provide guidance in this regard. Ultimate compliance responsibility rests with the law firm.
Contact Margaret Grisdela, a legal marketing consultant, at 561-266-1030 or via email. Connect with Margaret Grisdela on LinkedIn.

Margaret Grisdela
We've helped more than 250 law firms in 40+ states with marketing and business development campaigns across all practice areas. Contact us for a free consultation. You will be able to spend more time on the law when we take the lead on your personalized "Courting Your Clients" marketing campaign.