Law Firm Marketing with LinkedIn: Common Mistakes to Avoid
Law firm marketing with LinkedIn creates a powerful platform for professional networking and business development. There are some precautions that attorneys should take to avoid potential mistakes that can diminish your reputation and credibility. Below are some common errors to avoid in law firm marketing with LinkedIn.
Using a poor-quality or inappropriate photo. Your profile photo is the first impression you make on potential clients, business partners, vendors, or employers. Be sure it is current, professional, and reflects your personality. Avoid selfies casual shots that do not convey a positive image. Even worse, if you have a profile with NO photo, prospective clients will wonder why you are not paying attention to your online presence. The same can be said for an old photo. Post a new photo every year or two.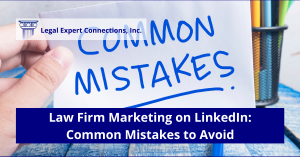 Having an unprofessional headline. Your headline is the text below your name in the introduction section on your profile, and it is the second thing people see on your profile. The headline can be separate from the title of your current position, and it should summarize your value proposition and expertise. The headline is important because it is displayed in search results, and it can be used to promote an area of expertise. Use keywords and phrases that highlight your strengths and goals. For example, you might use "Partner at ABC Law Firm," or "Employment Lawyer in Michigan." You can also change your headline over time.
Failing to take advantage of the "about" section. The "about" portion of your LinkedIn personal profile page offers an opportunity to describe your services from a broad career perspective. It can be used in a complementary way to pull together your skills and accomplishments from across various jobs over the course of your career. This can be written in a first- or third-party voice, but third-party is recommended for professional purposes. Think of this as what you would write if someone asked you for a 2-3 paragraph bio.
Maintaining an incomplete or inaccurate work history. Your work history is the core of your profile, and it should showcase your experience and accomplishments. Avoid leaving gaps, typos, or inconsistencies that can raise questions about your credibility. Instead, use bullet points, numbers, and keywords to highlight your responsibilities and results. When listing your employer, try to link the employer name to their LinkedIn company page.
Building connections indiscriminately. A best practice for law firm marketing on LinkedIn is to be selective and strategic about who you connect with, and to always take a few minutes to personalize your messages. Your network is a critical asset on LinkedIn, and it should reflect your professional interests and aspirations. First, be sure you are connected to your clients. Second, whenever you participate in an event, follow up with a LinkedIn invite to extend your relationship.
Maintaining duplicate LinkedIn profiles. It's not unusual to see that an attorney has two or even three LinkedIn profiles. This is a mistake in law firm marketing with LinkedIn, since you only should have one profile page that reflects your full range of activities. You also diminish the power of your network by spreading it across multiple profile pages. If you do have duplicate profiles, search on LinkedIn for "merge or close duplicate accounts" to find instructions on corrective steps to take.
Neglecting your LinkedIn profile. Your profile is your online resume, and it should reflect your current skills, achievements, and goals. Avoid letting your profile become outdated, incomplete, or inaccurate, as this can hurt your chances of being noticed and contacted by recruiters or employers. Lawyers in particular must consider attorney advertising guidelines that require them to maintain accurate and verifiable information about their practice. If you want to impress clients and peers with your professional commitment and knowledge of the latest technical trends, maintaining a current, attractive personal and company profile is a great start to your law firm marketing with LinkedIn.
By avoiding these common mistakes in law firm marketing with LinkedIn, you can improve your LinkedIn presence and leverage its benefits for your professional growth and success.
This article is one of a series we are publishing on how law firm marketing on LinkedIn. We help law firms build their online presence for client retention, new client acquisition, lead generation, and thought leadership.
RELATED ARTICLES
Margaret Grisdela
561-266-1030
https://legalexpertconnections.com/
The "Courting Your Clients" Legal Marketing Agency
We want to serve as your outsourced law firm marketing department! Courting Your Clients is offered exclusively by Legal Expert Connections, Inc., a national law firm marketing agency. We have helped more than 250 law firms in 40+ states pursue new client opportunities as of June 2023. Our focus is on the business-to-business market, including but not limited to business law, insurance defense, employment defense, commercial litigation, and immigration law.
We are experienced in many lines of legal liability, including auto, construction, cybersecurity, employment law, ERISA, homeowners, immigration, insurance, intellectual property, premises, products, professional liability, tax, transportation and trucking, whistleblower, and workers' compensation.
Our industry knowledge includes education, environmental, forensic accounting, healthcare, hospitality, manufacturing, municipal, professional services, real estate, restaurants, and retail.
Legal Expert Connections, Inc. offers three key benefits to law firms nationwide:
We serve as your outsourced legal marketing department. You get the equivalent of a "Chief Marketing Officer" level professional team for an affordable monthly investment. Our ideal client is a small law firm—from a solo practitioner to a 25-attorney firm—that needs marketing assistance but does not want to incur the cost and management time needed to maintain in-house staffing.
You get a structured business development process. We accelerate your growth with a 12-step legal marketing campaign that brings discipline, focus, and productivity to your marketing efforts.
Increase revenue with Bar-compliant legal marketing campaigns. We understand attorney advertising campaigns and can provide guidance in this regard. Ultimate compliance responsibility rests with the law firm.
Contact Margaret Grisdela, a legal marketing consultant, at 561-266-1030 or via email. Connect with Margaret Grisdela on LinkedIn.

Margaret Grisdela
We've helped more than 250 law firms in 40+ states with marketing and business development campaigns across all practice areas. Contact us for a free consultation. You will be able to spend more time on the law when we take the lead on your personalized "Courting Your Clients" marketing campaign.