Law firm marketing plans give the law firm, as well as individual lawyers and attorneys, a step-by-step process to new business development from current clients as well as new prospects. Legal Expert Connections, Inc. is a national legal marketing agency that is ready to help you create a custom law firm marketing plan to help your firm reach new levels of revenue and profitability.
Download a Free Law Firm Marketing Plan Sample Template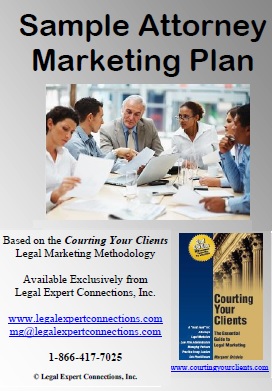 A free sample law firm marketing plan is available for your use in planning your own practice. The plan can work at the law firm level, as well as for individual attorneys and lawyers. Click on the link to download your sample attorney marketing plan.
What to Include in Your Law Firm Marketing Plan
An effective attorney marketing plan clearly identifies your business goals and creates a structured program to attract new clients. You will want to focus on:
Competitive positioning through legal specialization
Legal services offered, prioritized by capabilities and profitability
"Ideal client" profiles
The number of new accounts you plan to generate in the next 12 months
The dollar value of new business you plan to generate in the next 12 months
Specify in detail how and where you plan to develop new accounts:
Speaking engagements
Publishing opportunities
More business from existing clients
Referral networking (who will you meet with and how often)
Public Relations (PR) campaigns
Website and Internet marketing
Membership organizations
Identify plans to develop new business from current and past clients, including:
Client entertainment
Sell more services to existing accounts
Re-activate former accounts
Introduce new services, perhaps in response to new legislation
Identify "at risk" clients who need special attention
Click here to download a sample attorney marketing plan.
The secret to success in legal business development is to NEVER STOP MARKETING!
National Legal Marketing Agency
If your law firm is asking how you can get more clients, give us a call. We are a national legal marketing agency focused on business development, with a specialty in the defense sector. We have helped more than 150 defense law firms pursue new clients. We make it our business to identify who your law firm needs to contact at insurance companies, Fortune 500 companies, and self-insured entities to be considered for a position as outside defense counsel.
Legal Expert Connections, Inc. offers three key benefits to defense law firms nationwide:
We are the leading U.S. legal marketing agency specializing in the defense market. We know the panel counsel process and can accelerate your business development efforts by identifying who you need to contact.
You get a structured business development process. We guide your law firm through a proven three-step campaign that brings discipline, focus, and productivity to your marketing efforts.
Increase revenue with professional, Bar-compliant legal marketing campaigns. We do the research to identify insurance panel managers, so you can focus your time on the business development process.
Contact Margaret Grisdela, a legal marketing consultant, at 561-266-1030 or via email for a free consultation. Connect with Margaret Grisdela on LinkedIn.
Learn how easy and affordable it can be to achieve your business development goals with a well-written law firm marketing plan. We work on a flexible project or retainer basis, depending on your marketing and business development needs. Your satisfaction is guaranteed.