Law Firm Marketing Ideas for November 2023
As an outsourced law firm marketing director, I've had the privilege of working with hundreds of law firms across the country. In the spirit of giving thanks this November, I'd like to share some tips on how law firms can structure their marketing efforts to enhance client retention, account acquisition, and lead generation.
Please consider the following as you plan your law firm marketing schedule and budget for November.
Create Thanksgiving-themed content. Thanksgiving is a time for gratitude and reflection. You can create blog posts, social media posts, or videos that reflect on the year and express gratitude to your clients and colleagues. You can also share tips for staying safe during the holiday season or offer advice on how to handle legal issues that may arise during the holidays.
Start your holiday gift planning. The holiday season is just around the corner, with many festivities planned for Christmas, Chanukah, Kwanzaa, and the New Year. There's no time to waste in creating a holiday gift guide that features legal-themed gifts or gifts that are relevant to your practice area.
Get involved with a charity event. In the spirit of thankfulness, November is a great time to give back to the community. You can host a charity event or participate in a local charity event to support a good cause while also raising awareness about issues important to you and your law firm.
Organize your social media calendar for LinkedIn and/or Facebook. November has several noteworthy observances that are suitable for creating social media content. Here are the leading significant dates:
Daylight Savings ends at 2:00 a.m. on Sunday, November 5
Election Day, on or about Tuesday November 7 for many local elections
Veterans Day, Saturday November 11 (Friday Nov. 10 is the U.S. government holiday)
National Seat Belt Day, Tuesday, November 14
Thanksgiving, Thursday, November 23
Black Friday, November 24
Cyber Monday, November 27
(We can create original social media content for your law firm, if you are looking for help.)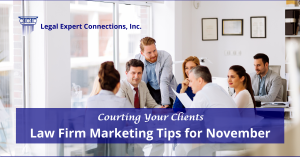 Plan a newsletter. Your law firm's November newsletter can feature some of the same material you use for your social media campaign. Be sure to include at least one informative article on a legal topic that your readers will find to be helpful in their business or personal life. We are a Constant Contact partner, if you could use some assistance.
Offer free consultations: This is a good idea for law firm marketing any time of the year. Be sure to mention it in your November marketing communications. Many people have legal questions but are hesitant to seek legal advice because of the cost. You can offer free consultations during November to encourage potential clients to seek legal advice and learn more about your services.
I hope these ideas help you with your law firm marketing efforts this November. Contact me to schedule a free consultation. Let's discuss your marketing goals!
Read our e-book, "Courting Your Clients," for more detailed guidance on law firm marketing.
Margaret Grisdela
561-266-1030
https://legalexpertconnections.com/
About Legal Expert Connections, Inc.
Legal Expert Connections is a national legal marketing agency, concentrating on business development. We have been helping lawyers and experts grow their practice since 2003. As of 2023, we have conducted business development campaigns for more than 250 defense law firms in 40+ states, many of whom have achieved their goal of gaining appointments as outside counsel. We understand how law firms are hired in a business-to-business environment.
We have managed campaigns across all lines of property and casualty insurance, including auto, construction, cybersecurity, employment law, homeowners, personal injury, professional liability, premises and products liability, trucking, and workers' compensation.
From an industry perspective, we have a deep understanding of many market sectors, including education, environmental, healthcare, hospitality, manufacturing, municipal, real estate, transportation, retail, and restaurants.
Three Reasons to Hire Legal Expert Connections, Inc.
We are a leading U.S. legal marketing agency specializing in the business-to-business market.
You get a structured business development process. We guide your law firm through an organized campaign that brings discipline, focus, and productivity to your marketing efforts.
Increase revenue with professional, Bar-compliant legal marketing campaigns. We are very familiar with attorney advertising guidelines, so you can focus your time on the business development process.
Start now! Contact Margaret Grisdela to schedule a free law firm marketing consultation.

Margaret Grisdela
We've helped more than 250 law firms in 40+ states with marketing and business development campaigns across all practice areas. Contact us for a free consultation. You will be able to spend more time on the law when we take the lead on your personalized "Courting Your Clients" marketing campaign.