Law firm proposals are becoming an increasingly important means of business development in today's competitive world. A "Request for Proposal" (RFP) is the triggering event, which could be issued by a municipality, corporate general counsel, or an insurance carrier.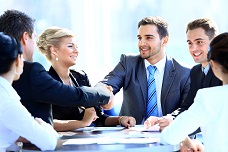 While every law firm proposal will be different, there are several key elements that will appear in most responses to an RFP. Basic sections include but are not limited to:
Introduction to the Firm. Geographic coverage, year founded, number of attorneys, and number of offices are all key facts that a law firm will want to include in its firm overview. Distinctive features related to diversity, awards, and other firm accomplishments are also important.
Practice Area Details. In preparing a law firm proposal, attorneys will want to provide a substantive description of experience by practice area. Including supporting detail in terms of corresponding representative cases will help to underscore your depth of expertise.
About the Attorneys. A detailed bio on key partners and associates is an essential part of your law firm proposal. Highlight credentials, like Martindale ratings or board certifications. Include attorney photos as an important part of the get-acquainted process.
References. A good reference is golden. Be prepared to provide three to four references, ideally of the type applicable to the law firm proposal or RFP (i.e., municipal references for an RFP issued by a local city).
Technological Expertise. Data privacy and security, as well as 24/7 communications, all mean that the law firms with a robust in-house technical ability have the best chance of submitting a winning law firm proposal.
Electronic Billing Capabilities. Many sophisticated purchasers of legal services (particularly in the insurance defense area) now employ third party auditors to review law firm bills. Law firms are advised to demonstrate their capability to provide invoices consistent with any format specified in the client's litigation guidelines.
Rates and Alternative Billing Arrangements. If possible, try to get a sense of the price range that is consistent with the client's budget. In the event of municipal RFPs, you might even get access to historical RFP responses as a point of reference.
Representative Cases. A list of reported cases and/or a descriptive list of characterized cases (i.e., where you do not disclose the client) will help to reinforce your experience.
Cautions. Be sure your proposal conforms to attorney advertising guidelines within your state. Write engaging copy that will make your law firm stand out from the competition.
Get Ideas for Your Legal Marketing Campaign
Contact law firm marketing consultant Margaret Grisdela at 561-266-1030 to discuss the legal marketing strategies that work best for your law firm. Click on the link to connect with her on LinkedIn.
Remember, marketing is a process and not an event! Have fun.