A law firm resume that introduces the firm to a prospective client in a professional manner serves the same purpose as a personal resume used by a jobseeker. Every law firm that wants to attract new business should maintain a current, attractive law firm resume for use as a basic part of the business development process.
Legal Expert Connections, Inc. has prepared hundreds of law firm resumes for defense firms around the country. In most cases we create the law firm resume for use as part of a business development campaign. Contact Margaret Grisdela by phone at 561-266-1030 or via email to talk about a law firm resume for your firm.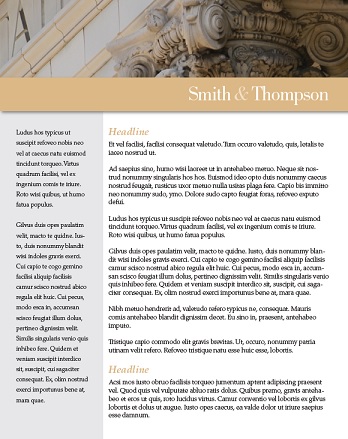 A law firm resume is typically an electronic document in PDF format that introduces the law firm, key practice areas, the attorneys, and other information that prospective clients, like insurance carriers and major employers, need to see in order to consider a law firm for a litigation panel counsel position. Click on the link to see our law firm resume sample sheet.
An individual practice group resume is also recommended in those cases where one practice area is taking the lead for their own business development. We see this most often with Labor & Employment practice groups that are feeling the pressure to get named as employment practices liability insurance (EPLI) panel counsel. Other specialized practice areas might include workers' compensation, trucking and transportation, or cybersecurity.
As you plan your firm resume, you can either choose to work with an experienced marketing consultant (like us!) to accelerate the process, or you can handle the project internally. In any event, below are some important considerations to build into your marketing materials.
Introduction to the law firm, usually a one page summary
Description of key practice areas, ideally with representative cases sprinkled in
Brief biography for each attorney (length varies with the number of attorneys)
Current attorney head shots
Attractive visual appearance using a professional graphic designer
Branding consistency with your website
If your law firm is mid-sized with 10 or more associates, consider using a yearbook style layout where you present a head shot for each associate on one page. This presentation, with multiple photos within a row and multiple rows on the page, provides a quick visual understanding of your firm's gender and cultural diversity.
The job of the law firm resume is to make a favorable impression while also generating interest on the part of the reader; it does not have to provide every last bit of detail possible about the firm. Keep the firm resume to about 10 pages if possible.
Investing in the services of a marketing consultant and/or a graphic designer to produce a visually-pleasing format for your firm resume can be money well spent. Try to avoid a firm resume that is a straight Word document with many pages of heavy text and no photos. At a minimum it is important to include a photo for each attorney.
Once you have your law firm resume finished, give some consideration to producing a companion four-page law firm brochure. The firm resume is an ideal way to provide a detailed introduction to your law firm and attorneys. The brochure is ideal for use in person-to-person meetings, as a hand-out at speaking engagements or educational seminars, and to make available via email. Click on the link to see our law firm resume sample sheet.
Contact Margaret Grisdela by phone at 561-266-1030 or via email to talk about a law firm resume for your firm.