Law Firm Marketing: What to Include in a Client Newsletter
Your current clients represent 100% of your law firm revenue, so it is important to reinforce your business and personal relationships on a consistent basis. A client newsletter, published monthly, is an ideal way to deliver legal news and information that is both informative and engaging.
Here are some ideas for what to include in your newsletter:
Favorable case outcomes: Highlighting successful cases that your firm has worked on can be a great way to showcase your expertise and attract new clients. Whether it's a successful jury verdict, a summary judgment win, or a negotiated settlement, clients like to learn about how your firm defends its clients. This type of story always makes a good opening article for your law firm client newsletter.
News updates: Keep your clients informed about the latest developments in pending legislation, compliance requirements, or a precedent-setting case. Helping your clients do their job more effectively will enable you stay top-of-mind and improve client retention.
Educational content: Providing valuable information and insights about the legal industry can help position your firm as a thought leader and increase your visibility among potential clients.
Attorney profiles: Introducing your attorneys and staff can help build trust and establish personal connections with your clients. In addition to their work responsibilities, consider sharing personal items about a team member's hobbies, family, or civic contributions to add some human interest.
Upcoming events: Promoting upcoming events such as webinars, seminars, or conferences can help you stay connected with your clients and attract new business.
FAQs: Answering frequently asked questions about your practice area can help educate your clients and position your firm as a trusted advisor.
Testimonials: Including testimonials from satisfied clients can help build trust and credibility with potential clients. You do need to be cautious on this point, since client confidentiality is always a consideration. Check with your state bar Rules of Professional Conduct before using testimonials.
Holiday greetings. Depending on the time of year, your law firm client newsletter is an ideal way to share best wishes for Memorial Day, Labor Day, Thanksgiving, Christmas, and other national holidays.
When you keep your client newsletter focused on client needs and interests, you strengthen client retention, increase open rates, and create opportunities for clients to stay in touch.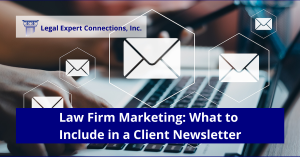 If you're interested in learning more about how to write an effective law firm client newsletter, contact us for a complimentary marketing consultation. We are a Constant Contact partner, and have taken the lead on writing, designing, and publishing a monthly client newsletter for many law firms.
The "Courting Your Clients" Legal Marketing Agency
We want to serve as your outsourced law firm marketing department! Courting Your Clients is offered exclusively by Legal Expert Connections, Inc., a national law firm marketing agency. We have helped more than 250 law firms in 40+ states pursue new client opportunities as of June 2023. Our focus is on the business-to-business market, including but not limited to business law, insurance defense, employment defense, commercial litigation, and immigration law.
We are experienced in many lines of legal liability and regulatory requirements, including auto, business, construction, cybersecurity, elder law, employment law, ERISA, homeowners, immigration, insurance, intellectual property, premises, products, professional liability, tax, transportation and trucking, trusts and estates, whistleblower, and workers' compensation.
Our industry knowledge includes education, environmental, forensic accounting, healthcare, hospitality, manufacturing, municipal, professional services, real estate, restaurants, and retail.
Legal Expert Connections, Inc. offers three key benefits to law firms nationwide:
We serve as your outsourced legal marketing department. You get the equivalent of a "Chief Marketing Officer" level professional team for an affordable monthly investment. Our ideal client is a small law firm—from a solo practitioner to a 25-attorney firm—that needs marketing assistance but does not want to incur the cost and management time needed to maintain in-house staffing.
You get a structured business development process. We accelerate your growth with a multi-step legal marketing campaign that brings discipline, focus, and productivity to your marketing efforts.
Increase revenue with Bar-compliant legal marketing campaigns. We understand attorney advertising campaigns and can provide guidance in this regard. Ultimate compliance responsibility rests with the law firm.
Contact Margaret Grisdela, a legal marketing consultant, at 1-561-266-1030 or via email. Connect with Margaret Grisdela on LinkedIn.

Margaret Grisdela
We've helped more than 250 law firms in 40+ states with marketing and business development campaigns across all practice areas. Contact us for a free consultation. You will be able to spend more time on the law when we take the lead on your personalized "Courting Your Clients" marketing campaign.