Law firm revenue and profitability for business law firms can erode over time eroding through normal attrition if the managing partner and other lawyers in leadership roles are not focused on a proactive law firm business development program. The difficulty is finding the time to develop new accounts while you are busy meeting the daily demands of current clients. This is particularly true for small to mid-sized law firms.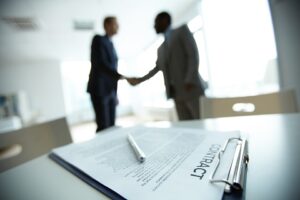 Changing legal industry dynamics bring a new sense of urgency to the need for legal marketing and business development.
Historically, managing partners and practice chairs filled the "rainmaking" role by developing strong personal relationships with in-house counsel at corporations, insurance companies, and municipalities in exchange for a steady flow of cases. This has changed over the past five to ten years as market competition has increased, participants have retired, and purchasers of legal services have become more sophisticated purchasers of legal services.
Here are five reasons why law firm business development is now an essential element in sustaining a healthy legal practice.
Your competitors are going after your accounts. This includes the firms you know, and those you don't. Many law firms are now expanding across state lines and may consider your geographic area to be fertile territory.
Social media is emerging as an important business development tool. LinkedIn specifically is becoming a meaningful part of the business development process, and many defense firms overlook the value and importance of this free resource. Law firms with a low profile are losing visibility.
Existing litigation panels are being consolidated and law firms are being removed to achieve a more manageable panel level. After a review of outside counsel, some in-house legal departments make decisions on which firms to keep and which to release. Even good firms can be cut when hard business decisions need to be made.
Regional law firms are gaining favor. Single location law firms are finding it more difficult to compete against in-state or multi-state law firms that offer in-house counsel the perceived benefit of multiple locations.
You are one negative outcome away from either losing a client or seeing a drop-off in your business.
Business oriented law firms that sit on the sidelines watching the game without an active attorney business development program in place are abandoning both their offense and defense.
Law Firm Business Development Consultant
If your law firm is asking how to become outside counsel for a corporation, insurance company, or municipality, give us a call. Our legal business development campaigns have helped more than 250 defense law firms in 43 states pursue new client opportunities.
Legal Expert Connections, Inc. offers three key benefits for law firm business development nationwide:
We are a leading U.S. legal marketing agency focused on the attorney business development process. We make it our business to identify who you need to contact at an insurance company, corporation, or municipality to be considered as outside counsel. We accelerate your business development process by helping you focus on introducing your law firm to new prospective clients.
You get a structured business development process. We guide your law firm through a proven three-step campaign that brings discipline, focus, and productivity to your marketing efforts.
Increase revenue with professional, Bar-compliant legal marketing campaigns. We do the research to identify litigation panel managers, so you can focus your time on the business development process.
Contact Margaret Grisdela, law firm business development marketing consultant, at 561-266-1030 or via email. Connect with Margaret Grisdela on LinkedIn.