Google is launching a significant update to its search engine algorithm beginning on April 21, 2015. The degree to which a website is considered to be "mobile friendly" will determine how well it ranks in organic search results after the Google algorithm change is in place.
While insurance defense law firms generally do not rely on organic search engine placement for business development, it is still important to protect your ranking in Google.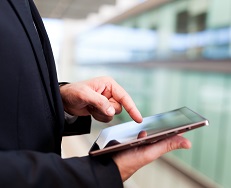 Personal injury law firms, family law firms, and others that rely heavily on a consumer client base are advised to move quickly and aggressively in bringing their website into a mobile-friendly state.
Firms can test the mobile-friendly rating for their website with a simple test found by searching "Google mobile friendly test," or simply clicking on the link for the Google mobile test.
Newer websites built on a WordPress platform are likely to comply with perhaps minor adjustments. Older websites may have difficulty meeting the new standards of the Google algorithm change.
The wide adoption of smartphones such as devices running Android, iPhone, or Windows Phone is behind this move by Google to establish a more mobile-friendly search environment.
Roll-out of the new algorithm is expected to take up to one week to reach a global market. Google will consider websites to be either mobile-friendly or not. There are no degrees of mobile-friendliness in this algorithm, according to Search Engine Land.
Google compiled the following list of common errors that prevent a website from being mobile-friendly:
Blocked JavaScript, CSS and image files
Unplayable content
Faulty redirects
Mobile-only 404s
App download interstitials
Irrelevant cross-links
Slow mobile pages
Much of this is technical, so you will want to talk to your webmaster in more detail to understand how the Google algorithm changes will affect your website. Click on the link for more details about these common mistakes.
From a business perspective law firm, managing partners need to understand that an older website will likely disadvantage the firm post-April 21.
Immediate action is encouraged to maintain visibility for your law firm's online positioning.
About the Author: Law Firm Marketing Consultant Margaret Grisdela

Margaret Grisdela is president of Legal Expert Connections, Inc., a national legal marketing agency, and author of the book Courting Your Clients. She has more than 30 years of experience serving attorneys, accountants, investment banks and businesses with high quality information products and services designed to generate revenue. Connect via LinkedIn or at 561-266-1030.