Can a law firm list the names of its clients on a website, directory, or marketing brochure? This is a question that comes up often in law firm marketing campaigns.
The answer is a qualified yes, a law firm can publish a client list, but ONLY if the law firm receives "informed consent" from each client identified.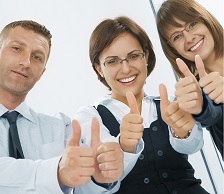 Even if the client relationship is known as a result of public record filings, such as court documents that identify both the law firm and the client they represent, the law firm still needs to obtain informed consent from the client to recognize them formally as a client.
For example, the 130-page Handbook on Lawyer Advertising and Solicitation published by The Florida Bar contains the following comment:
Rule 4-1.6(a), Rules Regulating the Florida Bar, prohibits a lawyer from voluntarily disclosing any information regarding a representation without a client's informed consent, unless one of the exceptions to rule 4-1.6 applies. A lawyer who wishes to advertise information about past results must have the affected client's informed consent. The fact that some or all of the information a lawyer may wish to advertise is in the public record does not obviate the need for the client's informed consent.
It makes no difference if the client is a Fortune 50 company or a individual represented in an auto accident case. The firm must obtain the client's consent before naming them or using a testimonial relating to a case.
The American Bar Association maintains a similar rule relating to client-lawyer relationships. ABA Rule 1.6 on Confidentiality of Information states:
(a) A lawyer shall not reveal information relating to the representation of a client unless the client gives informed consent, the disclosure is impliedly authorized in order to carry out the representation or the disclosure is permitted by paragraph (b).
Many states follow the ABA rule, although there are also variations. Lawyers will want to check with their State Bar to identify the relevant requirements.
The issue of informed consent came up in a couple of campaigns recently when we assisted Florida law firms in submitting or preparing materials for review by The Florida Bar.
When asked, The Florida Bar stated that there is not a specific form to use when obtaining informed consent, but it must be in writing. The client must be provided with enough information to understand how their name will be used, where it will be used, and any other relevant details.
This applies to a press release as well, since in one instance the law firm wanted to name a client in a press release regarding a favorable outcome received in a matter. (A press release does not need to be submitted for review in Florida, but it still needs to comply with all the attorney advertising rules.)
As an interesting aside, The Florida Bar had no concerns about naming an opposing party, since there is no attorney-client privilege. Of course, there may be other considerations when calling attention to the losing side of a litigated matter.
So the takeaway here is to always obtain a client's consent in writing before you identify them as a client (unless your state deviates from the national guidelines). Retain all the informed consent records for a time period consistent with the attorney advertising guidelines in your state.
Get Ideas for Your Legal Marketing Campaign
Contact law firm marketing consultant Margaret Grisdela at 561-266-1030 to discuss the legal marketing strategies that work best for your law firm. Click on the link to connect with her on LinkedIn.
Remember, marketing is a process and not an event! Have fun.